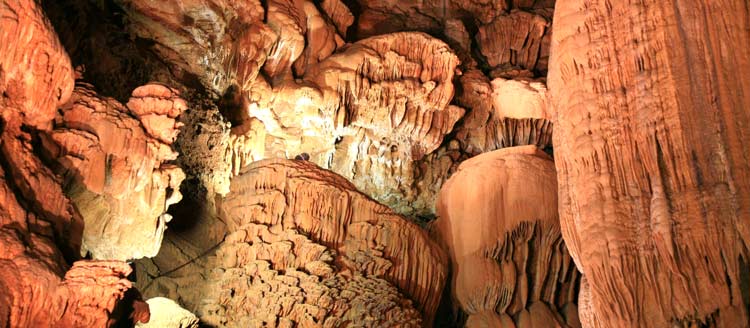 Approximately 15 minutes from the campsite
The Padirac Chasm is not to be missed in the Dordogne Valley.
Campsite GOUFFER OF PADIRAC
The town of Padirac, located in the Lot department, in the Dordogne valley, has built its reputation thanks to its legendary Gouffre de Padirac.
Located between Loubressac and Rignac in Haut Quercy, Padirac attracts a significant number of tourists each year.
This impressive chasm with a diameter of 35 m will take you 103 meters underground along an underground river.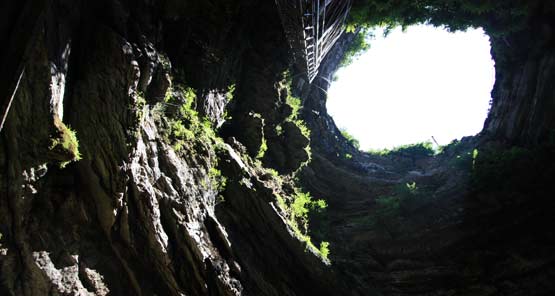 Visit the 2 km of galleries, by boat and then on foot, in the footsteps of Edouard Alfred Martel and discover the different rooms where the many stalagmites and the color of the water where the rock reflects will never cease to amaze you.
We recommend booking online in advance.
The surroundings of Padirac will take you the amateurs of the Middle Ages to visit the Castle of Montal, to make discover to the children the period of the Prehistory, to the Archeosite of the Gods, and for the lovers of the nature, to contemplate the Regional natural reserve of the marsh from Bonnefont.
Campsite RENTAL SWIMMING POOL NEAR PADIRAC
The campsite Lot located in the heart of the Dordogne Valley and Padirac is known for its geographical position in other words, just a few meters from the Dordogne River, but also by its pool. It is the ideal place to come and relax with your family. The calm and tranquility of the pool offers vacationers a real moment of relaxation. In the sun or under a parasol, you can make the most of your stay in the Lot, with your feet in the water.
RENTAL MOBIL HOME RIVER PADIRAC
To offer you your best holidays in Padirac, we offer a range of comfortable mobile homes. You will not be bothered by the neighborhood, you will have your own privacy. You will feel at home, the mobile homes near Padirac are fully equipped, modern and spacious. You will be just a few meters from the river, close to the swimming pool, to allow you to enjoy together and in all serenity, the joys of Campsite in Padirac.