At the heart of the Causses du Quercy and Dordogne Valley Nature Park, we are surrounded by numerous villages classified as the Most Beautiful Villages in France:
Visit the most beautiful villages of the Lot
The Dordogne valley is home to an exceptional cultural heritage and is dotted with villages of rare beauty, most of them built on the heights or beside the river. Castles, churches, stone buildings, cobbled streets, preserved natural surroundings: they all have their own history and special charm that lovers of heritage and authenticity can appreciate.
Many of them are in the Lot department and are easily accessible from the Port campsite in less than an hour. Some are so captivating that they belong to the network of "most beautiful villages of France":
Autoire, with its ramparts, its castles (castle of the English, castle of Busqueille, castle of Limargue) and its dovecotes.
Capdenac-le-Haut near Figeac, with its medieval fortress built more than 100 m above the Lot, its Gallic well and its fountains of Caesar.
Cardaillac, with its medieval fort and massive towers that offer a beautiful view of the village.
Carennac, with its castle of the Deans, its abbey and its church.
Loubressac, city perched on a promontory which has a remarkable castle and a beautiful church (Saint-Jean-Baptiste).
Saint-Cirq-Lapopie, beautiful medieval city built on a cliff overlooking the Lot.
Autoire, located in the hollow of a cirque and its magnificent 30 metre Waterfall,
Loubressac, and it Medieval houses, which, from the top of the promontory, dominate the Dordogne Valley
Carennac, on the banks of Dordogne, discover the Roman church and the cloister pertaining to the Clunisian priory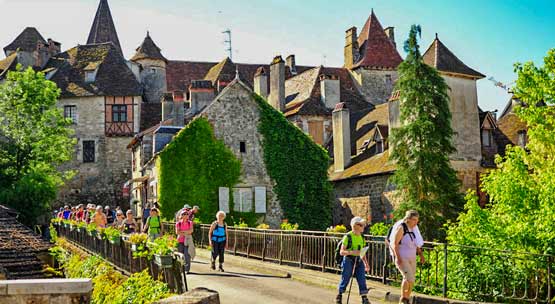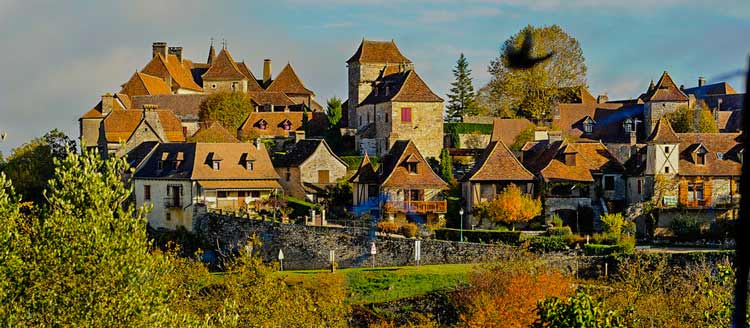 Collonges-la-Rouge, made famous with its red stone, the result of a geological fault which gave rise to red sandstone
Turenne, a powerful Viscountcy in Limousin with slate and flagstone roofs
Curemonte with its 3 castles and numerous towers
Also in Dordogne Domme, Roque Gageac, Castenaud la Chapelle and Beynac and Cazenac.