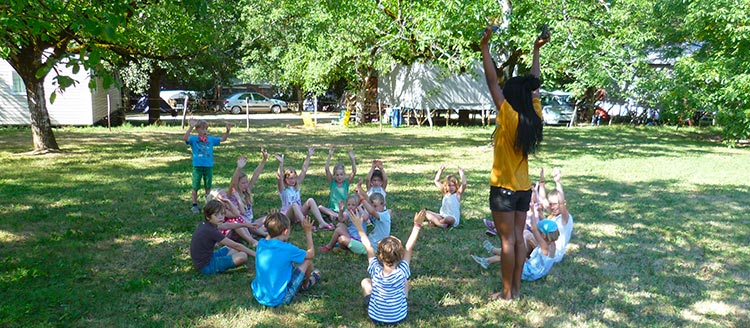 We design all the activities we offer! Welcoming and for everybody. And at no extra cost!
It is good to live in the Dordogne Valley. Camping holidays in the Lot also rhyme with entertainment.
That's why we want to make the youngest ones enjoy so that they spend an unforgettable holiday!
Camping du Port is a real family, we want to share with your children unique moments, where they can meet together in the middle of this nature, to allow them to let off steam in peace.
Every Tuesday, Romain, a trained Fishing Organiser, introduces children to the pleasures of fishing. They are also introduced to the wildlife which lives in the beautiful river and children will be sent away with a fishing card so that they can continue fishing for the remainder of their stay.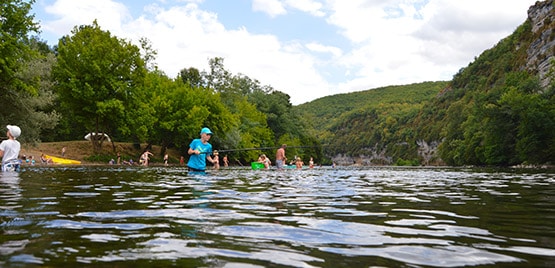 We also offer children a 2 or 3 half-day package with an organiser. Games, workshops, competitions and much more are on the agenda
Twice a week, Mélanie provides a fitness or Yoga class, on the grass or poolside, getting the day off to a wonderful start.

Every Wednesday evening, we invite you to an open-air cinema evening. Seated on the grass, on a throw, under one of the most beautiful French starry skies, you are sure to enjoy yourself in the open air.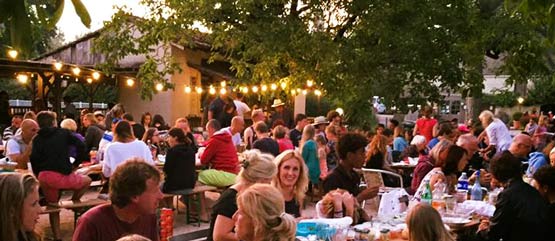 Friday night Barbecues are my particular favourite. I light the barbecue, set out the tables and benches, and you bring whatever it is you would like me to cook. It is a time of sharing, meeting people, togetherness and exchange, appreciated by everybody.